How we connect to the Internet

Black Coral Group S.A has invested in very robust, high-speed redundant networks, residing in our data / telco grade center.
Our networks feature the highest quality hardware and the most sophisticated networking technologies and protocols. The result is a fast, self-optimizing network that meets present and future networking needs.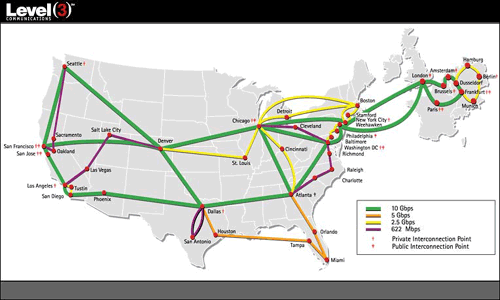 This Orlando, Florida network diagram is a portrait of the sophistication that Black Coral Group S.A. makes available to its customers in our many data centers.
to take a tutorial in IP protocol
to view the Qwest Network Map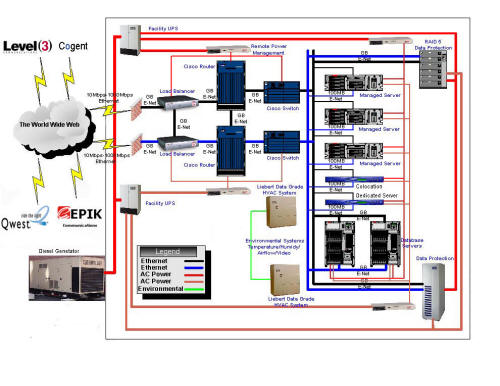 (Click the Diagram for full view)
Network Services
The Black Coral Group managed network provides our customers with fully redundant, high speed, state-of-the-art network access…and the added benefit of working through Black Coral., your single vendor for systems, managed services, and connectivity.

Data Center
We ensure a secured environment established to comply with the strict requirements of both Data and Telco Grade facilities. Each center provides UPS and diesel generator power backup, redundant HVAC systems, environmental monitoring, double detection pre-action fire suppression.

Connectivity
Black Coral Group / TicoSites provides connections to multiple backbones to ensure the fastest possible delivery of data to your end-users. Our network utilizes high-speed switched Ethernet and we connect with multiple tier-1 upstream providers for redundancy and optimal routing of your traffic.

Multi-Homed Network
We provide transit from a number of backbone providers to ensure your users receive the fastest access to your Web site and fast packet return delivery.

BGP4 – Routed Network
We employ the standard Border Gateway Protocol (BGP4) in our network to ensure that data is routed via best case routing. Each packet of information is evaluated and sent over the best possible route. In the event of a router failure, packets are automatically directed to another route in our redundant network architecture.

Guaranteed Packet Delivery
Black Coral Group / TicoSites offers superior reliability of data by guaranteeing minimal packet loss in the network. And, we work with our network providers to ensure that all packets leave our network at the highest contracted speeds and are delivered to your end-users.

Bandwidth Utilization
Our networks are designed to ensure excess capacity exists even in peak operating hours. We demand that excess bandwidth be the norm, even during the largest traffic spikes. We continue to add new connectivity/routes to ensure that this excess is retained and your content is sent to your end-users as efficiently as possible.

Network Providers
Our Network Providers are also our Technology Partners. They work with us to establish best-of-breed services for our network access. We have selected tier-1 upstream providers that deliver peering access for optimal routing.

Operating System Flexibility
We recognize that different platforms excel in different applications and hosting. We have developed expertise in multiple platforms to allow customers to select the platform that meets their performance and budget needs. Customers can select from Microsoft Windows NT or Linux.

Web Monitoring and Performance Testing
We offer Web monitoring and performance testing as an option to our customers. This testing includes stress and load testing to ensure your online business can handle projected traffic, scalability, and performance expectations. Web monitoring gives you critical insights into the performance of your online transactions, your Web pages, and your media streams.

Industry Leading SLA
We provide best-in-industry performance guarantees on uptime, network speed, and reliability by way of minimal packet loss.